Plumbers Soldering Tray
The SweatBOX® is the ultimate plumbers soldering tray.
Monument want to design and bring to market innovative products which save the engineer time. The Sweatbox was actually designed by Dan and Ryan, both Gas Safe Engineers by trade. Dan and Ryan approached Monument via the Inventors Den initiative on the Monument website.
Monument has been showing the Sweatbox to the Monument Masters, groups of engineers located in the UK, Australia and USA; their response is overwhelming.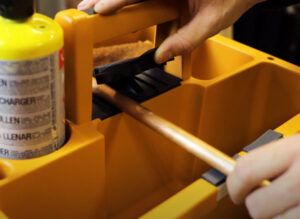 This is a  great product which unquestionably saves engineers time. It allows engineers to solder or sweat a new joint up to 22mm 3/4in. diameter, on site, in a domestic property without having to cobble together some kind of makeshift holding device.
The Sweatbox features a flame retardant engineering grade plastic with a patented clamp for holding different sizing of copper pipe up to 22mm or 3/4in..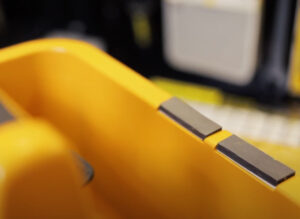 There is a silicone strip edge to the Sweatbox ensuring heat is not conducted from the hot copper pipe to the plastic of the Sweatbox or the clients property. Adhesive rubber feet are included, helping to prevent scratches to surfaces.
The sealed compartments are ideal for holding a gas bottle, separated blowtorch and all the essentials needed for soldering or sweating a joint. There's even a compartment for flux brushes.
The Sweatbox is ideal for use in conjunction with a Monument Omat.
The product launched in February 2021 is available to buy from the Monument Masters website.
SweatBOX® Product Reviews
Monument uses Tooltalk to collect reviews for its products. Read the Sweatbox reviews below or read the full reviews at Tooltalk: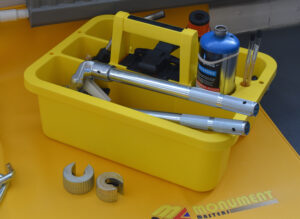 The Sweatbox is patented in the UK (GB2556889) and Patent Pending in the USA. The Sweatbox is  #MadeInBritain and available as one of the Monument Masters branded products.
Designed for the Trade, by the Trade.
Frequently Asked Questions FAQ
Q. What are the six black rubber pads for?
A. These are self adhesive pads to stick to the base of the SweatBOX to prevents scratching to surfaces 
Q. Explain flame retardent plastic ?
A. The plastic has an additive to make it less prone to catching fire than standard polypropylene. The SweatBOX is not flameproof. We would always recommend following Safe Working Practices when using a blowtorch and gas bottle.
Related Posts